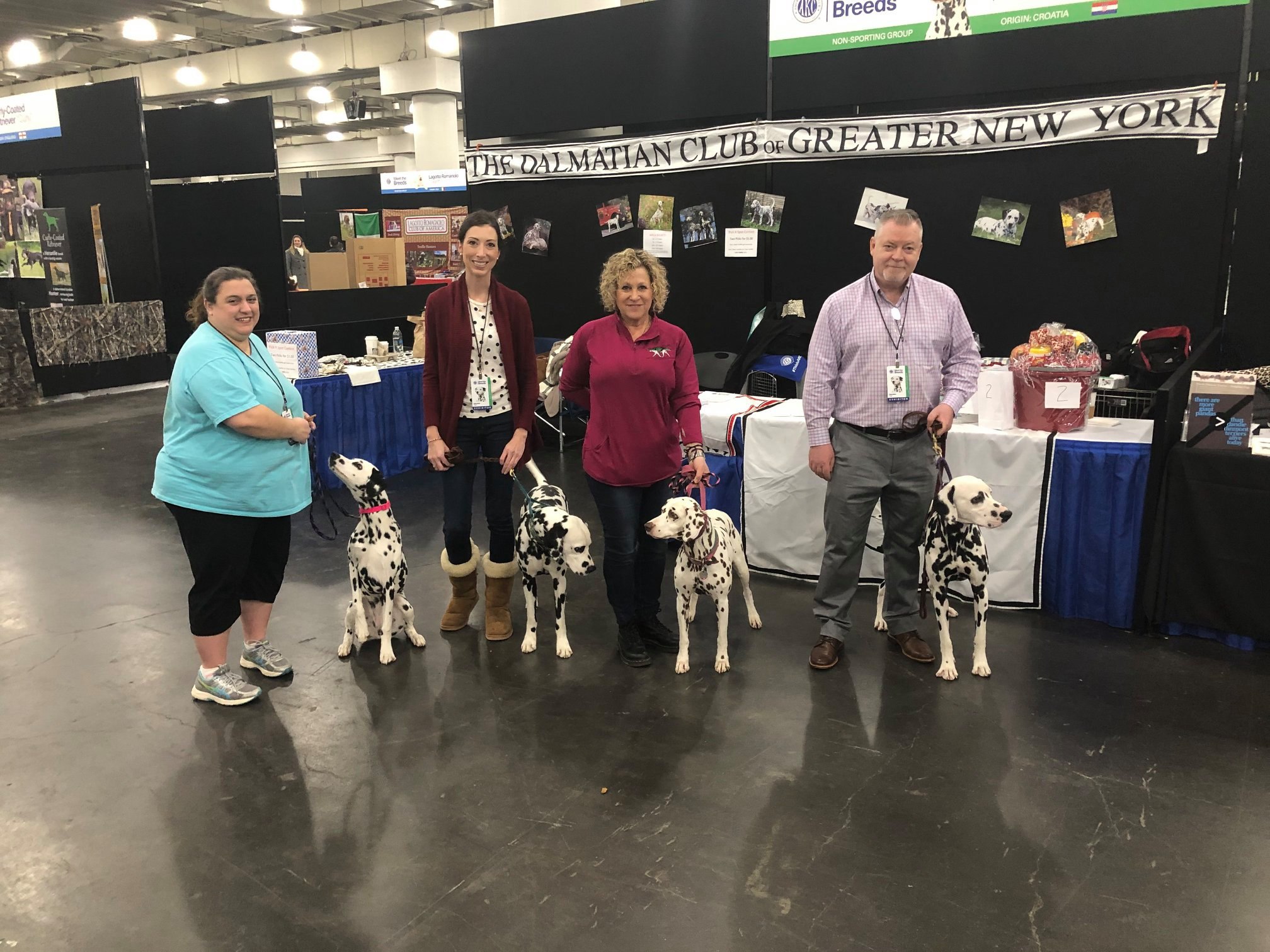 The Dalmatian Club of Greater New York represented our breed at the 2020 AKC Meet the Breed held January 25-26, 2020 at the Jacob Javits Center in New York. From left to right are DCGNY President Beth Johnson, and members Nicole Forbes, Barrie Essner and Sean McCaughley. Thousands of people learned more about Dalmatians and the wonderful dogs they are.

The Dalmatian Club of Greater New York is one of about 35 regional clubs affiliated with the Dalmatian Club of America.Our purpose is to encourage and promote the Dalmatian breed and to do all that is possible to bring their natural qualitites to perfection; urging members to accept the Standard of the Breed, as approved by the American Kennel Club, and to protect and advance the interests of the breed by encouraging sportsmanlike competition at dog shows, obedience trials and special events.


Whether we are breeders, show our dogs in conformation, obedience, agility, rally, lure coursing or other performance events, or enjoy our Dals as companions, members all love their "spots". If you're in good standing with the American Kennel Club, own or co-own a Dalmatian and want to promote, preserve and protect the wonderful Dalmatian breed, we invite to you join our club. Benefits of membership include our quarterly newsletter, "Dal Tales" that contains upcoming events, members sharing Dal-related stories or 'brags' and training tips; a list of local dog training clubs; the comraderie of other Dalmatian enthusiasts in your area. Click here for a membership application and more details. If you have any questions at all, contact our Membership Chairperson, Peggy Rogan. You can email her at progan@otponline.net, or you can find her full contact information on our Membership Application.

If you are looking to add a Dalmatian puppy or retired show dog to your home, check out our links page for member breeders, look at our blog for current litters from member breeders or contact our member Jackie Quinn the Dalmatian Club of America's Regional Breeder Coordinator for the Mid Atlantic Region (DE, MD, NJ, NY, PA, VA, WV, DC at jsquinny @ hotmail.com.